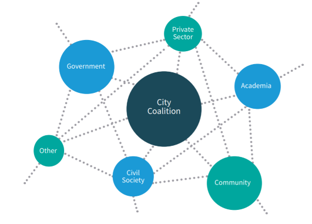 Local coalitions are a way to guide and foster work at the community level and tap the wide range of resources available in cities.
Resources
The

Building Coalitions for Urban Resilience Toolkit

 outlines how to how to strengthen existing coalitions (or start a new one), identify key organizations that can contribute, and identify common goals for different stakeholders. The toolkit has been developed as part of the USAID-supported

Coalition-building for Coastal City Resilience

project of the Global Disaster Preparedness Center (GDPC) in collaboration with the Red Cross National Societies in Indonesia, Myanmar, and Vanuatu. Source: GDPC.

The Handbook on Building City Coalitions is a tool that provides lead organisation representatives with a simple guide to enable the development of urban platforms to build community and urban resilience. Each city coalition can shape the initiative to suite their local circumstances by implementing practical actions to kick-start activities in their city or area.  Source: the IFRC Americas region.
The American Red Cross regional team in Latin America developed a role-playing game to help help communities and organisations learn more about working in coalitions. There is a Facilitator's Guide and a set of Participant roles to help you use or adapt the game. Source: American Red Cross regional team in Latin America.
Examples
Local government, the World Bank, and the Red Cross have been working closely together in Dar Es Salaam, Tanzania to better map and address local risks using community information. See the case study by the GDPC and Climate Centre for more details.